22 December, 2016
0 Comments
---
Study, memorize and preach the Word of God downloading the best app on your Android.
The World Messianic Bible is a free translation into English of the Holy book also known as the Hebrew Names Version (HNV) and the World English Bible: Messianic Edition (WEB:ME).
This Jewish Bible app can be used by everyone all over the world. Our Bible will reach millions of people. You can be a part of this world. Download and read the Holy Bible on your phone!
Our mission is to distribute for free the Holy Scriptures with the goal of getting it into the homes of all Jewiss people in Israel, the United States and all over the world.
Enjoy this Bible for Jews, non-Jews and Christians who want to know more about their Jewish roots.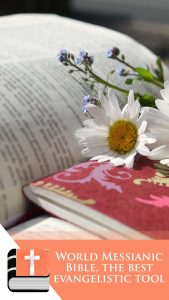 This unique Bible uses Hebrew names and Yiddish expressions. The purpose was to restore the original Jewish context and culture, but making a Bible easy to understand in modern English.
The World Messianic Bible contains 66 books, divided into Old and New Testament. The Old Testament (Tanakh) follows the order of the books of the Jewish Bible:
Torah (The Law): Genesis, Exodus, Leviticus,  Numbers, Deuteronomy
Neviim (The Prophets): Joshua, Judges, Ruth, 1 Samuel, 2 Samuel, 1 Kings, 2 Kings, Isaiah, Jeremiah, Ezekiel
Treisar (The Minor Prophets): Hosea, Joel, Amos, Obadiah, Jonah, Micah, Nahum, Habakkuk, Zephaniah, Haggai, Zechariah, Malachi.
Ketuvim (The Writings): Psalms, Proverbs, Job
Megilot: Song of Songs, Ruth, Lamentations, Ecclesiastes, Esther, Daniel, , Ezra, Nehemiah, 1 Chronicles, 2 Chronicles.